I'm often very glad that cell phone cameras weren't around when I was a kid. I like the fact that my dad doesn't know how to use the internet well enough to upload my baby pictures to Facebook and tag me in them. I'm grateful that my awkward years of braces and bad bangs aren't documented too terribly well for the world to see.
But sometimes, I wish we had documented everything like we do now.
One of those times I wish I had pictures of is cooking with my grandmothers. Especially so when they were teaching me to make cinnamon rolls.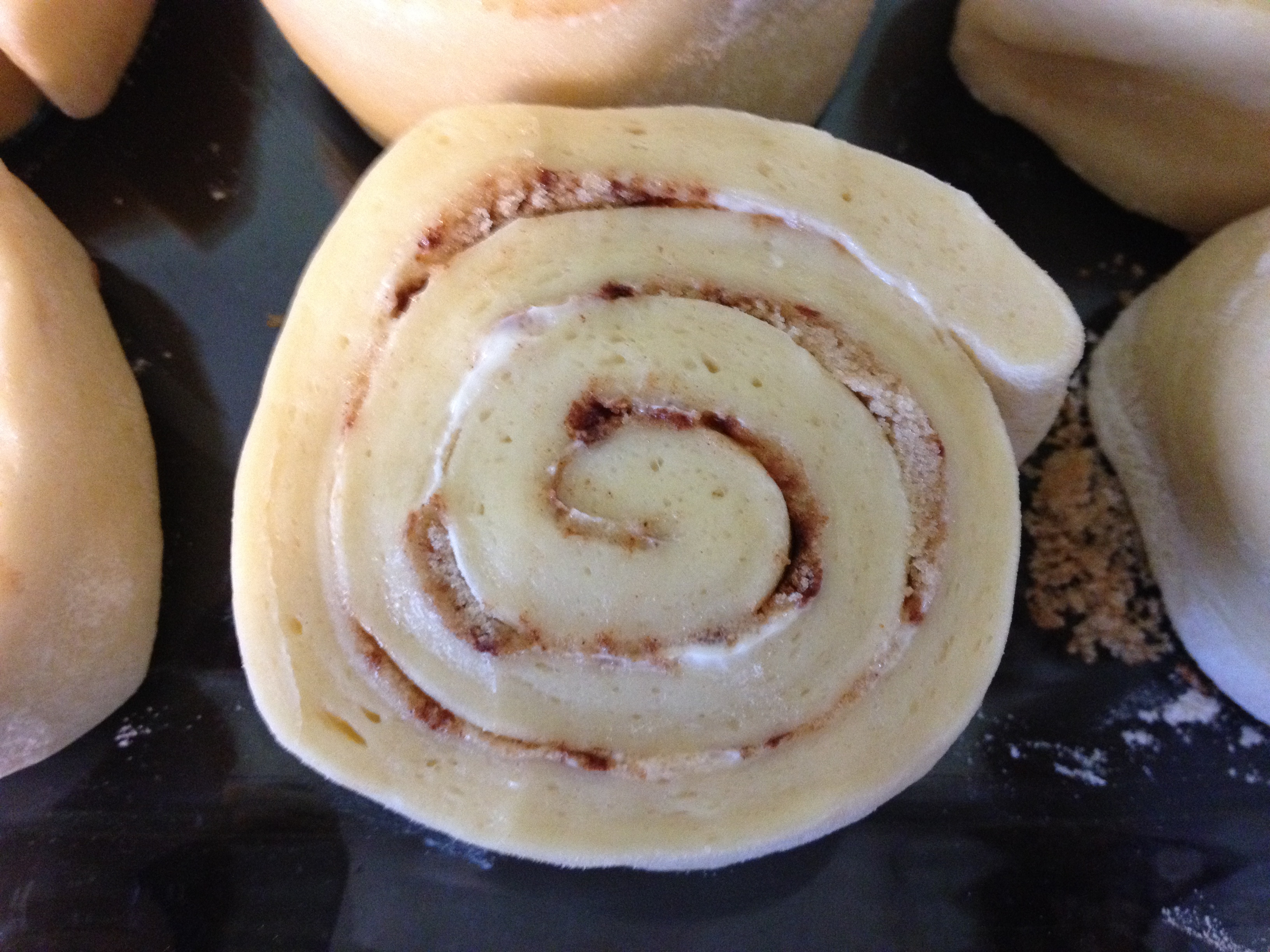 You see, both of my grandmas make excellent cinnamon rolls – and both of them have passed the love of feeding others on down to me.
My Grandma Morgan in Kansas used to make cinnamon rolls the old fashioned way – getting up before dawn to let the yeast activate, then letting the dough rise until it needs punched. I always loved the punching part as a kid. Now, at almost 95 years old, she doesn't spend too much time in the kitchen, but her recipes keep making an appearance every time my cookbook comes out.
My Grandma Nancy on the other hand, makes cinnamon rolls in a more modern fashion: with a bread machine. (She also reads blogs and has a Facebook account, so it's par for the course for her.) You toss in the ingredients, hit a button, and two hours later there is fresh, perfectly kneaded dough just waiting to be rolled out, buttered, and sugared. My time-strapped, millennial self likes this option, and that's the recipe I find myself going to the most these days. I probably need to take a day and make them the old fashioned way, just so that I remember to appreciate all these modern conveniences I get so used to (and, you know, for old time's sake and such).
Because I have a feeling you like saving time, too, here is the recipe for the perfect bread machine cinnamon rolls, often called the Cinnabon Clone recipe:
"Clone of Cinnabon Cinnamon Rolls" (hence the deliciousness)
Bread machine: takes 1 ½ hours in machine. Bakes for 15 minutes at 400*.
Ingredients:
Dough:
2 eggs (room temperature)
1 cup warm milk
1/3 cup melted margarine
1 t. salt
1/2 cup sugar
4 1/2 cups bread flour
2 1/2 t. bread machine yeast
Filling:
1 cup packed brown sugar
2 1/2 tablespoons cinnamon
1/3 cup softened butter
Cream Cheese Icing:
4 T. softened butter
3 oz. cream cheese
1 1/2 cups powdered sugar
1/2 t. vanilla
1/8 t. salt
Directions:
Add ingredients in order listed to bread machine baking pan. Insert pan into bread machine and start "dough" cycle. When dough is done, turn out onto floured rolling board and allow to rest for ten minutes.
Roll dough into a 16″ wide and 21″ long rectangle with a thickness of about 1/4″.
Combine brown sugar and cinnamon in a bowl until well mixed. Spread softened butter over the surface of the dough and sprinkle mixture over it. Roll dough jelly-roll fashion along the 16″ wide side of the rectangle. Cut dough roll into 12 slices. Place into 9 x 13 baking pan and bake at 400 degrees for approx. 15 minutes or until lightly browned on top. Remove and allow to cool.
Combine Frosting ingredients until well mixed. Frost and Enjoy!
Do you have a favorite family recipe? What is it?